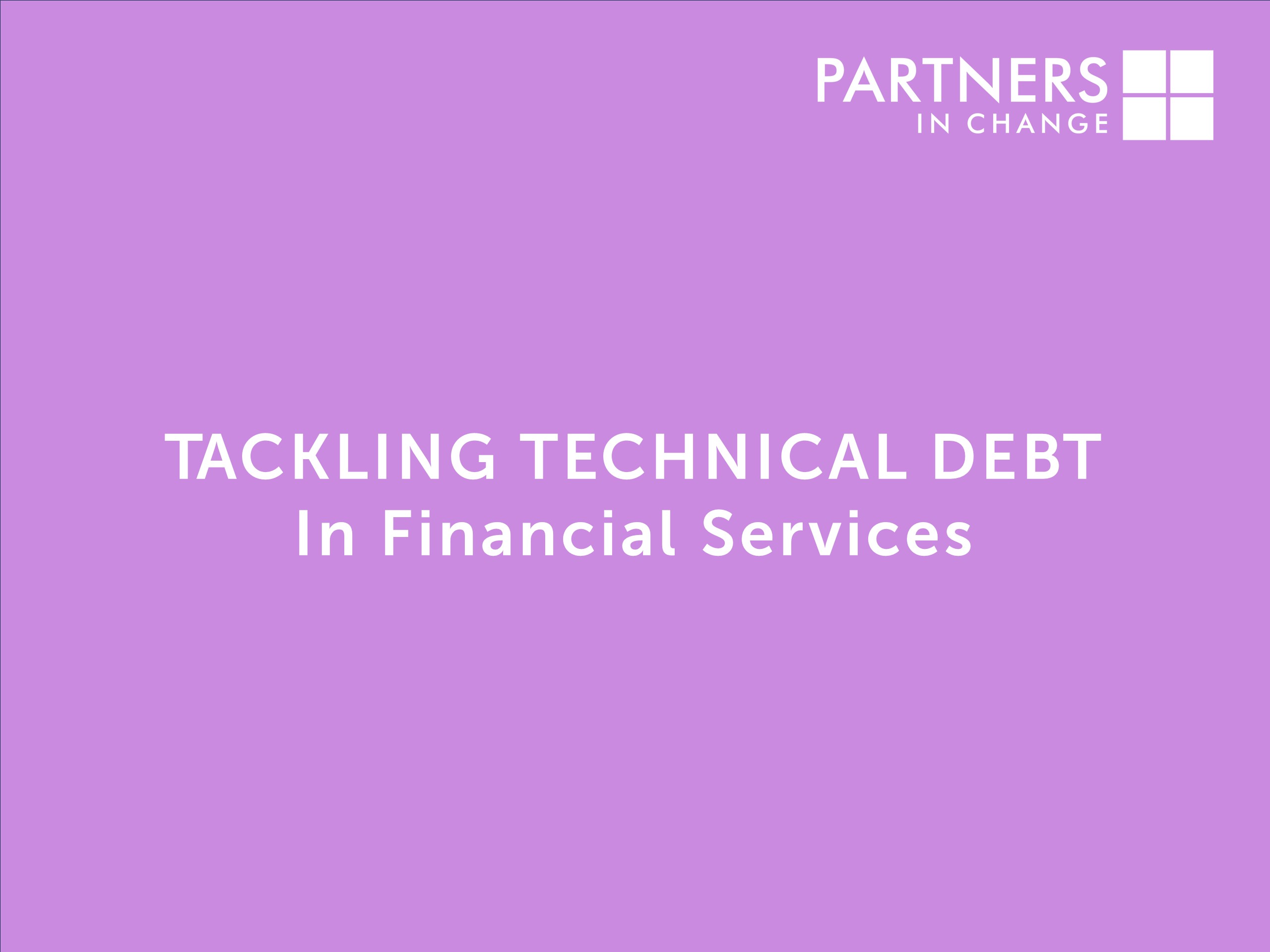 A common problem?
Legacy technical debt is a common problem facing many organisations across the Financial Services industry and beyond. Such outdated systems are often heavily integrated workhorses, churning through high volumes of transactions. The process of replacing them is complex with many moving parts to consider.
A clear approach to tackling this challenge is crucial if common pitfalls are to be avoided.
In this overview we outline our four-step approach. It is  designed to avoid the common pitfalls that can often undermine legacy systems transformation programmes.
A burning platform
Many UK Building Societies and mutuals share this common challenge. Legacy systems are deeply embedded across their technology estate and are highly integrated with other systems. This situation is likely to adversely impact the business in several ways, presenting  a number of problems summarised below:​
Legacy systems are a 'burning platform'  and are often out of support, or close to it ​
Legacy technology may be incompatible with newer platforms, making greater digital interaction harder to achieve​
The pace of change is slow – adding new products or gaining deeper customer insights from the organisation's data is heavy-going​
Knowledge of legacy systems is embedded in a few critical resources​
System security for such technology is increasingly difficult​
Business processes that use these systems cannot easily be made more efficient or fully automated, leading to loss of competitive edge as customer expectations grow
With these challenges in mind, legacy system transformation is a critical requirement if the organisation is to remain competitive both in terms of operational cost and meeting the growing expectations of existing and future customers.
Without such transformation, outdated technology will have an increasingly large drag effect on achieving key goals. Costs will continue to rise, and customer experience will decline.
The size of change programme required to deliver such a transformation typically requires significant investment and often outstrips an organisation's internal capacity to deliver. All of this means external support from a pragmatic expert partner is critical to success.
Planning for legacy systems transformation success
There are no silver bullets that guarantee successful transformation, but a systematic approach will make the journey easier to navigate and dramatically reduce the likelihood of failure.
Our experience suggests that, where legacy transformations fail, it is usually because one or more of the issues described below were encountered, resulting in programme delays, rising costs and frustrated teams and stakeholders.
Poor understanding of the current IT estate
It is vital that existing IT estate is fully understood. 'Urban myths' must be dispelled, and a clear set of facts established.
The allure of 'new' technology
Unpicking sales pitch promises from the reality of the product's maturity is often hard. Providers can often offer functionality that is not due to land for some time or a product that is already many years old and likely to be superseded.
Lack of leadership alignment
Such misalignment manifests at various points including the initial case for change, the choice of solution, or a lack of realism around the balance of ambition, capability and affordability.
The 'layer-cake' problem
Typically, legacy transformation must be undertaken at the same time as other change is happening. Establishing how this 'layer' of transformation can happen at the same time as business-critical change (e.g. regulatory) is a vital step.
Capability gaps
Such activity requires highly capable commercial management alongside business and technical subject matter experts.
Jumping to a solution or delivery
A clear case for change must be made before a solution is agreed. Similarly, delivery activities should not begin until the solution decision is clear and agreed.
Expect a long journey
Transforming legacy systems is usually a multi-step, multi-year undertaking. As a result, change fatigue can often undermine the process. Aligning expectations on duration and scope is vital.
A flawed approach
Ensuring BAU remains unaffected and avoiding the pitfalls described above requires a highly structured and systematic approach, incorporating multiple checkpoints and formal governance.
Our four-step approach to a complex problem
Our four-step approach to legacy system transformation incorporates a highly structured and effectively organised change journey. It is constructed such that the pitfalls described above are entirely designed-out or have their impact minimised.
Step 1: Establish the facts
In seeking momentum, it is tempting for organisations to jump to a solution or straight into delivery. Experience tells us that really understanding the 'as-is' situation and case for change is critical.
Step 2: Make the case for change
Is there a credible case for change and, if so, can a viable change journey be designed?
Step 3: Decide on a solution
Identify the product (s) required to replace your legacy systems. Decide how you will organise to implement the solution and ensure that costs are fully understood, and risks fully assessed.
Step 4: Mobilise delivery
Define and establish the conditions inside and outside the transformation programme that are necessary to deliver success.
Implications for business change
Throughout the legacy system transformation journey it is important to understand the implications for business change. This includes both the 'current state' and 'target state' implications for the operating model (covering both capabilities and roles) and the transition states between the two.
Virtually all legacy system transformation requires extensive manual processes and workaround meaning there is always a significant amount of business change to handle.
Legacy system transformation is undoubtedly a vital step for organisations if they are to remain competitive. It is a long journey requiring orchestration, expertise and experience.
Please don't hesitate to get in touch if you'd like to talk about your technical debt challenges.